26 avril 2010
1
26
/

04
/

avril
/

2010
22:00
J'ai récupéré le plateau d'une table en pin qui était promise à la décharge. Les dimensions de la table étaient 112,5 cm X 55 cm X 3 cm.
Le paipo mesure 111 cm X 53,5 cm et a une forme inspirée à la fois par les alaias et les surfs mini Simons que l'on voit un peu partout sur les blogs des shapers underground. J'aime cette forme simple et pure avec une carène arrondie à l'avant et un arrière en concave (leger sur le paipo). Le tail est finalement droit et non "bat tail". La planche est assez lourde : 6 kg !
Le shape est réalisé essentiellement au rabot manuel (que j'utilisais pour la première fois) et au surform (j'ai renoncé à acheter un rabot électrique pour rester en bon termes avec mes voisins - je bricole sur mon balcon).
Le bois est beaucoup plus dur sur les noeuds et il est difficile de passer le rabot dessus pour enlever autant de matière. Un bois sans noeuds serait vraiment mieux !
Evolution de la planche : un ami m'a prêté un rabot électrique et j'ai pu retirer pas mal d'épaisseur à la planche et donc la rendre plus légère et je l'espère plus flexible. Elle pèse maintenant 4,8 kg et l'épaisseur maxi est de 2,6 cm à environ 5 cm du rail (le centre est plus fin, le pont est donc en creux).

J'ai passé quelques couches de vitrificateur uréthane à l'eau puis dessiné sur papier et reproduit au feutre POSCA un dessin de requin genre tatouage polynésien.

06/07/2009
Test ride : J'ai testé la planche à La Torche dans 1m50 bien propre et à la Baie des Trépassés par un petit mètre
tout aussi propre. Le paipo démarre très facilement au take off, toutefois il est utile de ramer avec un bras tout en palmant pour mettre la planche à la surface de l'eau. Il toune correctement pour partir sur le coté, sans être trop réactif non plus. La vitesse est franchement élevée et le ride est très doux. La crainte est de piquer du nez dans une vague bien creuse. Le duck dive se fait comme dans un rêve.




I recycled a pine wood table that would have been trashed otherwise.
The dimensions of the paipo are 43.7" X 21" X 1.18". The shape is inspired by alaias and the mini Simons that we can see all around on the underground shapers blogs. this shape is simple and pure with some belly in front and a slight concave at the back.
I cut the tail straight and didn't keep the "bat tail" as shown on the first pics. The board is quite heavy : 6 kgs !
I shaped it almost entirely with a hand plane and a surform and it was difficult to remove as much material on the wood knots.

A friend of mine lent a power planer and I could remove some thickness on the top and more on the centre line than on the rails (the deck is concave). The board is now 1" at it's thickest point. It is lighter - 4.8 kg - and hopefully flexier.

I put some layers of urethane (water based) floor varnish, then drew and reproduced with a POSCA marker a polynesian tatoo style shark.
Test ride : I tried the paipo in Britany in 1,50 m and 1m clean waves. The board takes off very easily but it can be useful to paddle with one arm and with the fins at the same time to help the board get on the water surface. It turns well but not very nervously. The speed is very good with a very smooth ride. It has very little rocker so I feared to dive into hollow waves but il didn't happen. It duckdives like in a dream.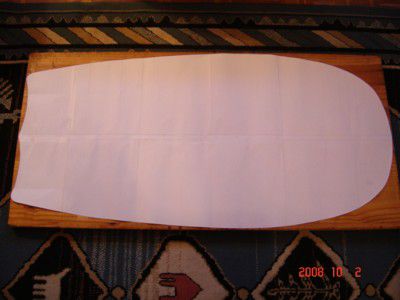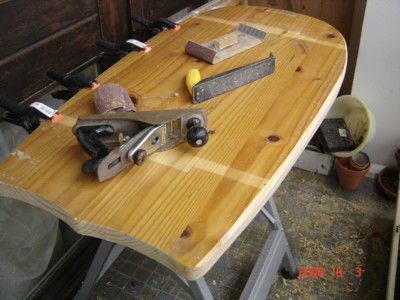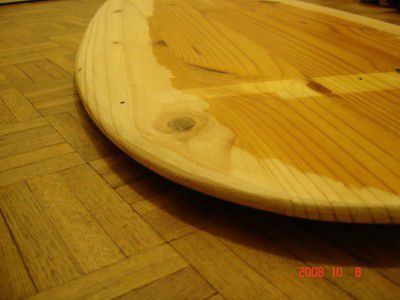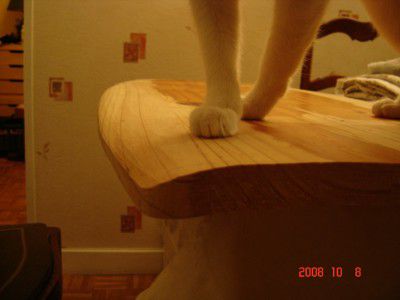 Même le chat participe à la critique du shape ;-)

Le rail est haut et arrondi devant ... bas et plus dur à l'arrière
High and rounded rail near the nose lower towards the tail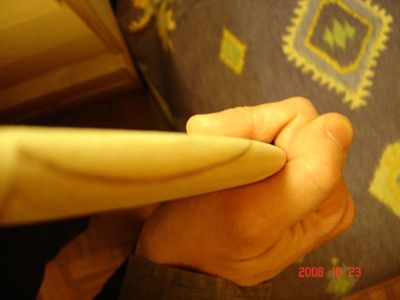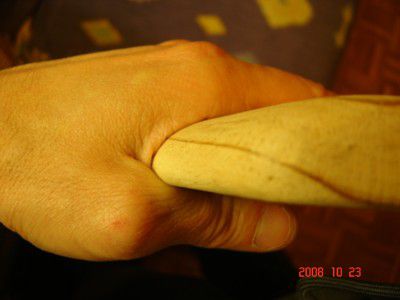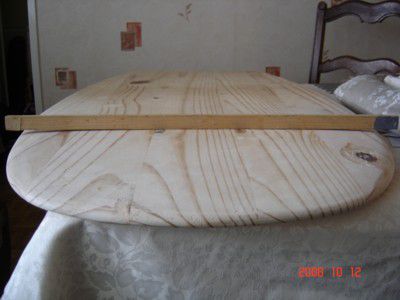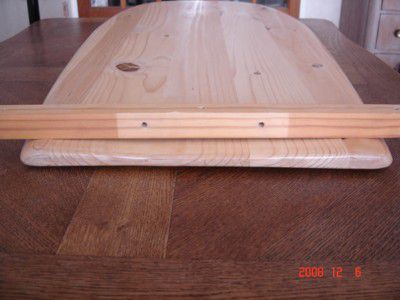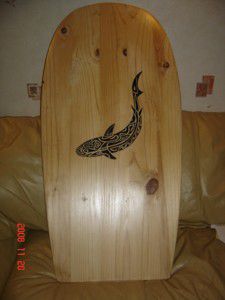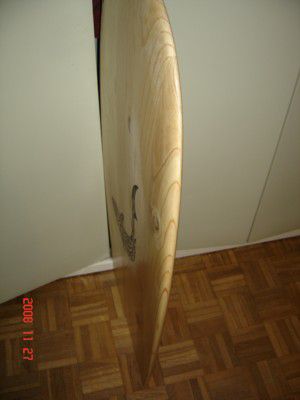 Modification du 26/04/2010
J'ai trouvé la planche trop large (55 cm) pour mon petit gabarit alors je l'ai recoupée sur les rails pour garder la même largeur à l'arrière (40 cm), reculer le maitre-beau au milieu et arriver à une largeur maxi de 48 cm. J'en ai profité pour spatuler plus l'avant et faire des rails plus fins et couchés à l'arrière.



I found the board was too wide so I cut the rails. I kept the same width on the tail (15.74"), put the wide point, now 18.7", at mid length, gave more rocker to the nose and made the rails thinner, lower and sharper near the tail.

Test ride : I tried the new version of the board in 2 ft cross off shore short waves. It feels less cumbersome and is the right size for me. Too bad the waves were so small because I think it should now be fantastic in a hollow beach break.